A Caring Staff
Front Office Staff

Jessica Brown
Front Office Receptionist
I am a native of Rabun County and I would not have it any other way. Rabun is my home. My husband and I are high school sweethearts. We have been together for five years this September. We have two beautiful children together; a three year old daughter named Madison, and we have recently added our second child in January 2014, a son named Hunter.
On my days off I enjoy my time with my family and friends. I am very thankful for the family the Lord has blessed me with. You could have all the money in the world but if you have a loving, caring, and supportive family, then you are considered a very rich person. I am a very down to earth, Southern-raised young lady, and I enjoy doing all the things that Southern ladies like to do. I enjoy my slow country nights.
I am currently attending classes at North Georgia Technical College to pursue a career in the Medical Assisting field. I enjoy the medical setting and love helping others. I am currently working at Mountain Medical Specialties as the front office receptionist. I enjoy working with staff and both Dr. Flick and Dr. Frederickson. I also enjoy greeting and getting to know patients as they come for their visits here at the office. We are a warm, welcoming doctor's office full of understanding and caring staff members. I hope you enjoy your visit with us.

Karen Stewart
Scheduling/Medical Records
My husband and I moved from our Walton County horse farm to the beautiful mountains, downsizing as our three wonderful boys were fully grown and starting their own lives. We have always vacationed here in Rabun County and were thrilled when we found a place that allowed us to move our menagerie of animals here. We have a couple of trail horses, donkeys, chickens, dogs, cats, and two talking parrots here with us.
My passions are my horses and have been since I was six. I no longer raise or show my horses, I just enjoy the wonderful scenery on horseback, and my quiet time in the barn with them. I also enjoy gardening, from flowers of all kinds to raising our vegetables and putting them up for those cold winter days. I enjoy cooking for family and friends, I am always trying new dishes and herbs.
I am finally a grandmother to a wonderful little girl named Kate, she is the daughter of our middle son and his lovely wife, and who is expecting our second grandchild in June 2014, so we are very excited.
My other outside sport I enjoy is fishing. I can even bait, catch, clean, cook, and I love to cook what I catch. I have many fond memories of fishing with my grandfather and mother, who like me, loved to fish.
I have about five and a half years in the medical field. I love working for Dr. Flick, he is a very caring and passionate doctor. This office is one big happy family that love each other and love caring for our patients.

Debbie Moore
Front Office Receptionist
My husband and I moved from Ft. Stewart, GA to Rabun County in 1986. On my off days I enjoy camping, fishing, boating, and being with family and friends.
I have worked in the medical field for almost 30 years. I attended North Georgia Technical college medical assisting and business classes.
I enjoy getting to know patients and being able to help them with their healthcare needs. I am very proud to be working with the staff and physicians here.
Back Office Staff

Cheryl Harkins
Administrative Assistant, Purchasing
I am proud to say that I have been a Rabun County native for thirty-five years. I love everything our area has to offer, especially the beautiful and peaceful mountain landscape. My family is my pride and joy. I have four amazing children and a loving husband of seventeen years. I enjoy baking, gardening, and spending time with my family.
I worked in the medical billing field several years ago for Dr. Kathy Easterling for about two years before I decided to continue my education. I successfully obtained my B.S. degree and worked in Education for nine years. I am passionate about teaching and caring for people. I returned to the medical field once again at Mountain Medical Specialties in September 2013 as an administrative assistant. I get to perform a variety of tasks, including purchasing, accounting, and medical billing. We all work here as a team and patient care is always a top priority. It is a pleasure to work for two wonderful, caring, and brilliant physicians, Dr. Flick and Dr. Frederickson.

Diane McCallister 
Office Manager/Accounting
I am a lifelong resident of Rabun County. I still live in the Warwoman community where I grew up with my sister and four brothers. I have a lot of precious childhood memories, especially the picnics in the park at the Smokey Mountains.
Family is the most important thing in my life. I am married with 3 grown daughters, a step-son and seven beautiful grandchildren. I love gardening with my husband and spending time with my family.
My career in healthcare begun in 1986 when I became employed by Dr. Richard Turner at Woodridge Hospital. During that time I continued my education at Truett McConnell College along with courses related to healthcare financial management. I became a member of HFMA (Healthcare Financial Management Association and later achieved my goal in 1997 to become a CHFP (Certified Healthcare Financial Professional) specializing in patient financial services. While working as a healthcare consultant I took a position with Dr. Kathy Easterling as she began her family practice her in Clayton.
I have had the opportunity to work with many physicians over the years. I specialize in physician credentialing, practice management, patient billing and coding. I am a current member of AAPC (American Association of Professional Coders).
I have been employed with Dr. Flick at Mountain Medical Specialties since June 2013 and really enjoying working here. I love the friendly atmosphere with both the patients and all the staff. I feel we all work as a team to make sure the patients get the care they need.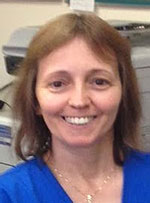 Sherry Watkins
Office Assistant
I am a proud native of Rabun County. I have 3 sisters and 3 brothers. I have many nieces and nephews but no children of my own.
I worked in manufacturing until 2006 when Fruit of the Loom closed. I then attended North GA Technical College for Medical Receptionist. I was on the President's List. I worked at Mountain Lakes Medical Center for 7 years in the ER registration and in Medical Records.
I received a warm welcome to become a member of this family in October 2014 as an Office Assistant for claims and billing. Dr. Flick and Dr. Frederickson really take the time to listen, understand the patients' needs and provide great care with the help of all team members. I recently felt warmth of this family when I became sick. Dr. Flick and team members took great care of me. This family atmosphere will put your mind at rest and take care of you physically. I know that recently a nurse found out that our patient did not have wood for heat and she was calling someone at 7:30 a.m. to get him some even at her own expense if need be. She was making sure that he was taken care of and it made me very proud to work here.
Dr. Flick's Clinical Staff

Sandra Hunnicutt
Medical Assistant
I was born and raised in Rabun County. I grew up on Black Rock in the heart of Mountain City with my parents and sister. I have been married to my husband for 31 years and we have 3 children, 4 grandchildren, and 1 dog named Snickers.
In my free time, I enjoy spending time with my family. My grandbabies are my pride and joy! I enjoy cooking, baking, shopping and swimming in the summer.
My career in healthcare began 29 years ago, and I have enjoyed every minute of it since! I have always enjoyed taking care of others and hope that I am able to make a difference in someone's life. I have performed many duties in the medical field such as nursing, billing, accounting, and office management. Dr. Flick gave me my first job in the medical field in 1990.
I feel honored to be working alongside Dr. Flick and the other members of his office staff. I feel that we all work as a team to ensure that patient care is our top priority.

Debbie Watkins
Medical Scribe
I was born and raised in Rabun County and grew up in a small community known as Tate City, which is actually in Towns County but you must go about seven miles on a single lane, dead end, dirt road that starts in Rabun and ends in Towns County. I am one of nine children. I am married and have two grown children of my own. I enjoy spending time with my animals, which consist of a Yorkie named Bentley and a miniature donkey named Jack. I also enjoy mowing the grass, deer hunting, fishing, camping, taking the pontoon to the lake, spending time with my family and friends and listening to frogs holler at night.
I consider myself to be a people person that likes to laugh and try to make others laugh. I enjoy helping others and hope that I can make a difference in someone's life.
I have worked in the medical field for about fifteen years. I started in the local hospital and worked there for several years and was then discovered by Dr. Kathy Easterling and worked at her facility which was known as Rabun Medical Center. I started as a receptionist then got a lot of on-the-job training which consists of Medical Assisting. I also did phlebotomy, which I enjoyed.
It's nice working in an office that has a caring physician and an awesome staff that he treats as his own family. I am hoping for this to be my last career move and at the end of every day I hope someone leaves with a smile on their face or a good feeling in their heart because one of us at Mountain Medical Specialties made a difference.

Tracie Davis
R.N., B.S.N.
I grew up in Rabun county and I'm pleased to call it my home. I was raised on a small farm in the Satolah community. My parents raised cattle, pigs, and chickens. They also kept a vegetable garden which we all helped to maintain. I have many fond memories on that property; of riding our horses, finding Indian artifacts, playing with tiny garter snakes, witnessing the birth of a calf, and so much more.
I have been married to my husband, Chris, for 10 years. Our children are our two spoiled dogs, Bella and Georgia. We enjoy going to the beach, deep sea fishing, skeet shooting & target practice, Georgia football, spending time with friends and family, and everything Lake Burton has to offer.
I graduated from University of Georgia in 1995 and then attended nursing school at the Medical College of Georgia. I have been in the medical field for almost 18 years. I love being a nurse and feel especially privileged to work with Dr. Flick and the rest of the amazing staff.

Sasia Maloney
PBT, MLT
Sasia is the phlebotomist/lab technician at Mountain Medical Specialties. Sasia is a native of the North Carolina mountains and has worked as a lab tech for the past nine years. She is an ASCP board certified phelbotomist and obtained an Assoiciates in Medical Laboratory. She is also certified in epidemics and infectious disease.
She married a hoosier from Indiana named Johnathon. They have two sons, Bexley and Bentley. With her family she enjoys trips to the lake, walks on the beach, and grilling out. She is a passionista about baking her grandmothers old recipes. She is a life lover, traveler, and wants to make a difference. She is very sincere, friendly, and ambitious.
Wellness PEMF Therapy Staff

Arthur Cataldo, ABD, LMBT  
Frequency Therapist
Arthur has been a Missouri-licensed clinical psychologist, is a certified hypnotherapist, a professional member of the Association for Past Life Research and Therapies, a North Carolina and Georgia-licensed massage and bodywork therapist, and has been nationally certified in therapeutic massage and bodywork. He is also a teacher and practitioner of hands-on healing, a Traditional Reiki Master Teacher, a Karuna Reiki Master Teacher, and the discoverer and Master Teacher of the Amanohuna System of Energy Healing. Arthur directed the Center for Transformation on Sanibel Island, Florida where he taught intuitive development. He has presented seminars internationally, and has practiced and taught past life therapy and healing for over 30 years.
As a psychologist, I became acutely aware of the interdependence of the mind and body.  One can't heal one without addressing the other.  My focus has shifted more and more to healing the body first to provide a solid foundation for emotional and spiritual development.  While working with hands-on modalities I also used my voice to tone or sing whatever sounds felt appropriate for that client at that time.  I was amazed how the body responds to sound and specific frequencies.  That was my introduction to specific frequency healing.  My training with Dr Carolyn McMakin in Frequency Specific Microcurrent deepened my understanding and appreciation for frequency healing.  I now get to see amazing results every day in our clinic with pulsed magnetic frequencies, pulsed plasma and pulsed light.

Marcus Cutrone
Frequency Therapist,
Certified Natural Health Consultant
Marcus Cutrone has been involved in fitness for the past 30 years. He has a Personal Trainer Certification from the nationally acclaimed - International Sports Science Association. Marcus is also a Certified Natural Health Consultant for MMS, as well as a Yoga-fit Yoga instructor at Your Time Fitness. Marcus has lived in Clayton since 2007. He's married to Sylvia Cutrone, one of the top massage therapists in Rabun County.
While working here, Marcus has administered over 9,000 Frequency Specific Microcurrent treatments. Medication is not the answer. The new medicine will be the non-evasive Pulsed Magnetic Frequency treatments and devices available at Mountain Medical Specialties for pain and stress management. The frequency treatments seem to support issues from Acme to Wounds and anything in between. This is a very exciting endeavor for us to help people heal themselves.

Christy Shelton
LPN
I attended nursing school at North Georgia Technical College and graduated with my LPN in 1989. I knew early on that my purpose in life was to help people in need. I came to work at Mountain Medical Specialties in 2015. The doctors and staff here are amazing! We love our patients and we love working together! Dr. Frederickson and Dr. Flick truly care for their patients and spend time listening and caring for the​m.​
I am a lifelong resident of Rabun County and love the beautiful mountains and waterfalls that surround me. One of my favorite pass​ ​times is hiking to hidden waterfalls in the area.
I married my husband David in 1989. He has an antique furniture restoration and refinishing business at our home. I love to see old pieces of furniture restored back to life by his hands. We have two amazing children. Valerie is 26 and is growing her new photography business after graduating in commercial photography at North Georgia Technical College in 2013. Jake is 23 and graduated college from Georgia Southern and is exploring opportunites as an entrepreneur.

Andrew Hadley

 
Web Design & I.T. Support
I grew up in the small town of Fairburn, GA, on the outskirts of Atlanta. I graduated from Creekside Highschool class of 2000. After highschool, I studied towards a B.A. at Georgia State University. I worked several years for UPS Teleservices performing technical support for their Worldship customers. 
While there I got my A+ certification from Comptia and studied for the Network+ and Security+ certifications. Currently, I am developing and maintaining websites using Drupal. In addition, I am providing email support, video editing, software troubleshooting, security audits, and various other Information Technology related jobs as needed.

Jadwiga Cataldo
Therapy Assistant
Jadwiga earned her MA in Academy of Physical Education in Warsaw Poland. After relocating to USA she studied with Bonnie Bainbridge Cohen in the School for Body-Mind Centering and become teacher and practitioner of BMC. After completing education in Institute for Integral Nutrition IIN, she added health and lifestyle coaching to her skills. Helping people to achieve personal health and wellness has been a focus of her lifetime. Now, working with electro-magnetic frequencies she sees that this technology enhances body's innate ability to heal itself and can become an integral part of new health care paradigm that supports the health and wellness of the whole person. 
Nancy Chiochetti 
Receptionist,
Administrative Assistant ​
I was born and raised in Orlando, Florida. Growing up as a child, my family would vacation in Rabun County. I never dreamed that I would raise my family here.
My daughter "Ashley" is 31 and is a Realtor in Ashville, NC. Eleven years ago, she blessed me with my wonderful grandson "Laban". My son "Michael" is 28 and lives in Buford, GA. He is a lineman for Georgia Power.
I have been in the medical field the past four years. I am very excited to be a part of this wonderful team at Mountain Medical Specialties!